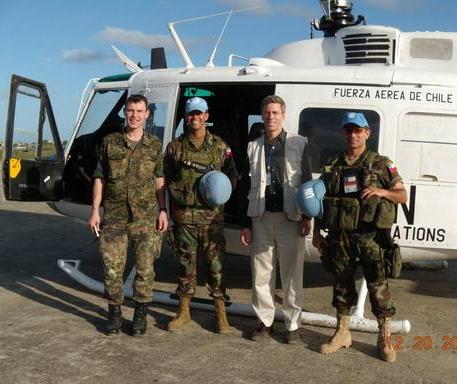 Dr. Dorn in Cap-Haïtien with peacekeepers in the UN Stabilization Mission in Haiti (MINUSTAH), December 2009
The author, Dr. Walter Dorn, teaches military officers and civilians at the Canadian Forces College (CFC) and at the Royal Military College of Canada (RMC). He is a professor of defence studies and Chair of the Masters of Defence Studies Programme at CFC/RMC. He has researched and served on UN peace operations, and worked as a consultant to the UN's Department of Peacekeeping Operations.
Partly as a result of this Keeping Watch book, the United Nations established an Expert Panel on Technology and Innovation in UN Peacekeeping, with Dr. Dorn as a member. The panel report was published in 2015 with references to this book and advanced recommendations that the United Nations is now seeking to implement.
More information at walterdorn.net.